I haven't written here in a while. I hadn't planned on writing here tonight. I have a long list of "things I should be doing" that is currently overwhelming my anxiety levels and I had intended to chip away at that mound a bit more this evening. As I'm looking ahead to the school year that is fast approaching, I feel the days are slipping away too quickly. And I feel like this film of anxiety crushes all the really lovely things that have happened and are to come.
You see, I cram things I want to do or things I am honored to do in between the list of things I have to do. It's not optimal however I don't know how else to operate. I was thinking about it earlier today and I was almost resentful that's the routine. I was reminded then that even though that's how it is, this situation does afford for me to take advantage of opportunities.
In a few short months, I have had so many amazing experiences and an overwhelming feeling of gratitude came over me. Not to sound corny but it is really wonderful luck or a blessing or whatever you want to call it. I thought I would reflect on a few of those things for you here.
HOSPITALFIELD; Arbroath, Scotland
At the beginning of May, I returned to a place where I traveled to in my very first international experience as a student at Tyler School of Art. I had so wished to find the photo album of my 1994 trip but no luck.
I was accepted into this short Interdisciplinary Residency with a dozen other artists at the Patrick Allan Fraser estate of Hospitalfield. My favorite thing about this was that the residency, like many others I have attended, was not comprised of just visual artists. I shared my time with writers, curators, architects, and academics.
Being the shortest residency I have done, I didn't expect to get too much completed, but this was ok. What happened, however, is a tremendous amount of writing and processing where I ended completing a piece (I think) enough to document.
I think often I feel isolated. I wish to relate with artists in my general location but then I wonder if that is the beauty of residencies. The coming together. I could easily talk about the things here as I do there but instead, choose to mull over to do lists and what to make for dinner. Take those things off the table and maybe that's the trick (Candidates to be my house staff, inquire within).
The work I started has me itching for more (figuratively, and in doing so quite literally). I am enjoying breaking new ground with my work as I focus more readily on the "trauma experience aftermath."
I had a conversation with an artist visiting the gallery this past Spring who asked me about my work and then responded to me about how it must be so cathartic. That stays with me a bit because I don't think of it that way nor aim for it to be. It is work to exist after trauma- I don't care what your trauma is. It is an analyzation of that.
My time at Hospitalfield had a good portion of that work. In fact, I joked how I was the resident scullery maid for the amount of cleaning I did. A fellow resident recognized how much that needs to be a part of the work… and I agree. Stay tuned.
ITINERANT; Queens, NY
While many residents left the residency to do some traveling, I hopped a plane back to the US and prepared to do my fourth performance of 'the burden of this.' This is the first my work was being seen by an NY audience and while I was performing at both the Queens Museum and the Flushing Meadows Park (location of the 1939 World's Fair), it was a virtual downpour that day.
It's funny to 'reperform' work. It's also funny to reperform it in a place you have never seen. While I did a 'fine' performance in the museum, I was very excited about dealing with the outside space. I learned a lot from that and aside from not realizing how much weight damp ground would add to my bag, I experienced something so beautiful.
The piece is about how we are always contending with our "shit" no matter where we are or what we are doing. We often grapple with these things in private while sometimes the struggle is too much to bear and it creeps into our public life. There are many incidents where that struggle becomes a spectacle, but there are fewer times where we experience empathy.
The performance in the park was a very hard one. I was incredibly tired and my body just worn out. As I continued through this, something happened that never happened. Someone picked up a side of the bag and helped me. For me, it made the performance perfect and beautiful. Thank you, guy.
TANNE FOUNDATION
It's not every day where you get an envelope in the mail and it holds a check and a letter as powerful as this.
Dear Heather:
Art extracts a price. It demands that you open yourself, listen, see, learn, be both adventurous and willing to fail. It asks that you venture toward what is not known but is there and reveal it to the community which needs to know but not able to make the journey. Art extracts a price from the artist. One's personal life, family life, home life, and income pay the price.
In recognition of your achievement and dedication as an artist, the Tanne Foundation is pleased to award you $X to aid in your pursuit. This money is an unrestricted award, not a grant or fellowship.
We warmly thank you and welcome you to the Tanne Foundation family.
Sincerely,
I feel somewhat undeserving. I feel as if I need to have done more for it. I also feel that it is exactly right. Art does extract a price and it is all of those things. But bottomline, I did not apply for this award. In fact, I had not known what it was. I do owe the trustees a tremendous thank you for believing in me, when sometimes I even question myself.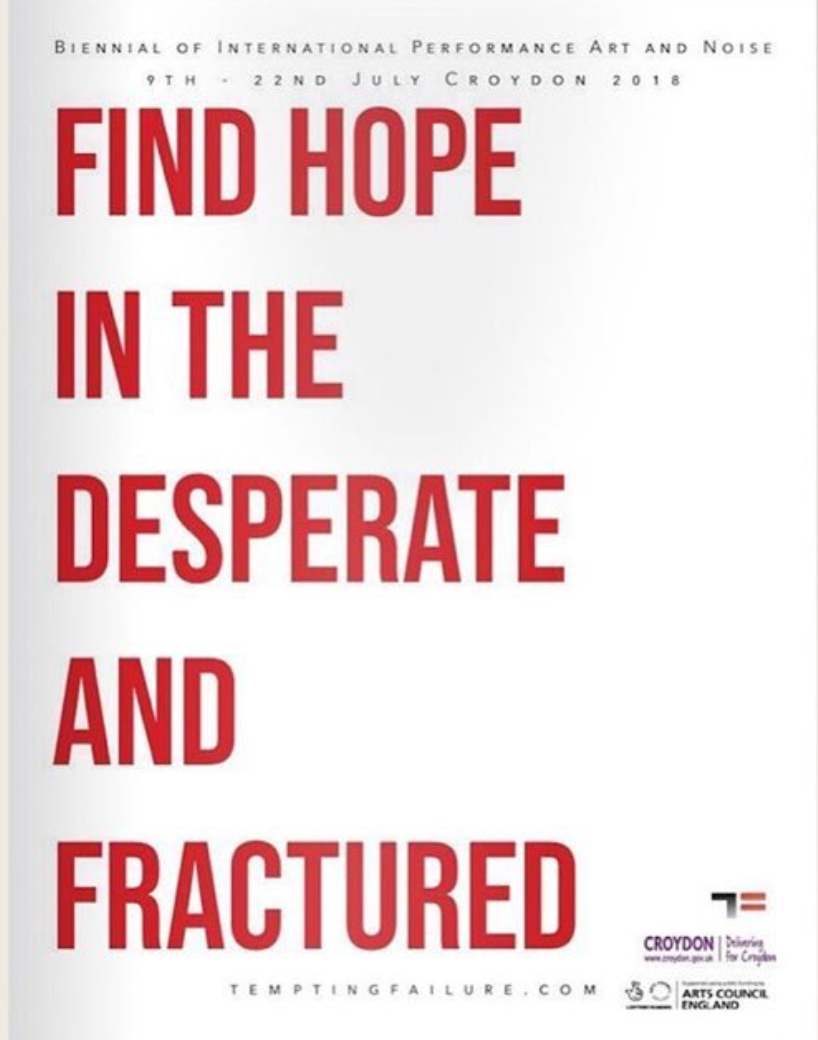 TEMPTING FAILURE; London, England
A week ago today, I boarded a plane back to the US after a hot, busy 6 days in London (Croydon). I was invited to participate in the Tempting Failure Biennial where I did my last performance of 'the burden of this' (and why not go out with a bang by using very smelly Queen's manure).
This is 2-week event of performance art and noise that made me feel like I was eating at the big kid's table. You have to remember, I am not around many performance artists and I am somewhat new to the performance world. I wish I was able to attend the entire series and would like to make a point to do so in the future.
This final performance was meant to be pretty long, however, we shortened the route for many reasons. (I kept thinking about how hard the April performance at Wilkes was and was terrified). Little did I know that the pavement would be incredibly slippery and the manure grade would take up more volume in the bag- so really the performance (most of the time) was far easier than it had ever been.
I feel a bit bad that it was easy. I mean, heading through a market of unsuspecting people was a new challenge and pretty wonderful, but not having to struggle as much as I had in the past, strangely feels appropriate. Perhaps maybe this was the right time to end it. This aspect of the trauma resolved (although not saying all is done). It's a good lesson. As the piece is re-performed, it too goes through its phases.
This all was such a wonderful experience. Earlier tonight, I watch my "Travels" highlights on Instagram. I started while I was at Hospitalfield so it doesn't have everything but it has so much. I can't believe that it was a short time ago that Laura drove Ben and me to the train station in Arbroath; and I slept mere hours before debuting in New York; and was recognized for this short phase of my career; and, just a week ago, attended the incredible masterclass in my field of which I was so fortunate to be included. This. has been a beautiful two months.